Amoris Laetitia Is a Bad Egg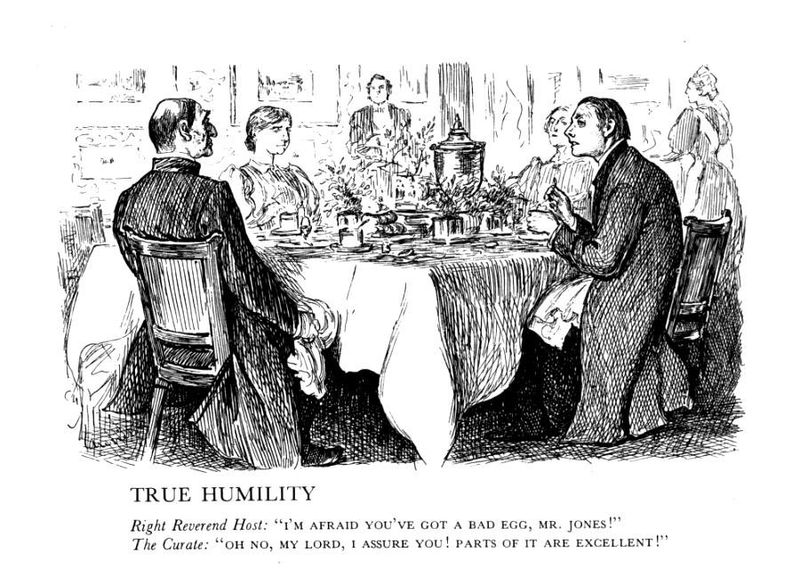 The above is one of the most famous cartoons ever to have appeared in Punch.  Parts of  Amoris Laetitia are excellent too, or  so we are given to understand. But that's not really the point, is it?  Taken as a whole, it stinks.
Some neo-Catholics have praised the Apostolic Exhortation Amoris Laetitia because of its emphasis on "meeting people where they are at" rather than condemning their particular sinful situation.  Seems  commendably merciful, but it makes me very uneasy all the same.   All too easily this policy can be interpreted to mean  tacitly accepting that "where they are at" is where they ought to be. That is what  the Mods—in particular the German bishops— are already doing.
In another of his disastrous mid-air Press conferences, Pope Francis was asked to clarify the  position on "remarriage" and Holy Communion. He made  the confusion worse confounded by pointing to the interpretation of the  devious  Austrian Cardinal Schönborn.  I fear that although the Pope cannot change Church teaching, he can and has changed Church practice, as he clearly intended to do before the "Synod on the Family" was even called. It looks as though from now on, in many European countries at least, permissions for "divorced and remarried" Catholics to receive Holy Communion will be poured through in ever-increasing numbers.
How should a confused Catholic react? I don't know, but I don't think the "We're all doomed"  response of some Traddy bloggers (following Private Fraser in Dad's Army) is particularly helpful.

Private Fraser
Unfortunately, one of those who thinks we're all doomed is Hilary White, whose blog "What's Up with Francis-Church?" is usually  realistic as well as caustic.  She believes that  because Cardinal Burke is  simply  pointing out that Amoris Laetitia is non-magisterial, rather than yelling abuse at the Holy Father, the Cardinal has thrown his most loyal supporters under the bus and may as well be some kind of modernist.  But Eccles, whose blog posts are getting progressively funnier, refutes any such idea with this picture and caption:
Warning – this is what a nasty liberal modernist looks like.
Even though we're not necessarily doomed, this is a catastrophe all the same. As Professor Roberto de Mattei has commented:
If the text is catastrophic, even more catastrophic is the fact that it was signed by the Vicar of Christ. Even so, for those who love Christ and His Church, this is a good reason to speak and not be silent.  So, let's make ours the words of a courageous Bishop, Athanasius Schneider:

'Non possumus!' I will not accept an obfuscated speech nor a skilfully masked back door to a profanation of the Sacraments of Marriage and Eucharist. Likewise, I will not accept a mockery of the Sixth Commandment of God. I prefer to be ridiculed and persecuted rather than to accept ambiguous texts and insincere methods.
Bishop Schneider made this remark some months ago, but it's even more relevant today.